Brady have launched the S3700 Sign and Label Printer to colour the way to an improved workplace
With multicolour print and shape cutting capabilities, this printer creates impactful identification that fits application and workspace needs.
Safety and efficiency are the pulse of operations, creating the need for an industrial label printer that delivers both. The BradyPrinter S3700 Multicolour & Cut Sign and Label Printer serves as an industrial label printer that seamlessly integrates multicolour brilliance, transformative shape cutting, and user-friendly create-and-print functions. It empowers users to generate signs, labels, and tags for a wide range of applications.
Key features include the ability to incorporate colour seamlessly into labelling for safety, lean, and work-in-process visuals. The auto-adjusting multicolour panel ribbons extend longevity, allowing the printing of colour labels on a single cartridge.
Enjoy straighter lines, smoother curves and tighter connection points thanks to the precision XY plotter cutter. Plus, stack pipe markers and pack multiple shapes per label to minimise waste.
Create and print faster than ever before with time-saving onboard templates, intuitive PC labelling software and a mobile app, plus 20-second material changeovers and 127mm-per-second print speed.
Watch the Brady S3700 in a short video >>
50 Lean Visuals Pocket Book for improving productivity and safety in your lean facility
Companies that incorporate lean visuals throughout their facility are proven to have higher productivity, reduced waste, and improved safety. Visuals are also essential to sustaining the success of lean manufacturing initiatives. They reinforce the standards put in place, and help staff and employees detect abnormalities at a glance.
This Pocketbook will highlight 50 tried-and-true ways to effectively use visuals throughout a company's facility.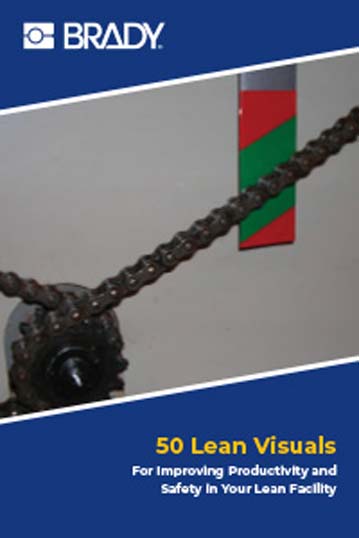 Download the free Pocket Book now >>